N SPORT Seat rail Products
N SPORT Dedicated Side Stays for Recaro RMS Seats, High-position Type
High-position side stays for Recaro RMS seats with fine height adjustment, angle adjustment and lateral adjustment. Can accommodate a seat belt buckle and anchor (eye) bolts.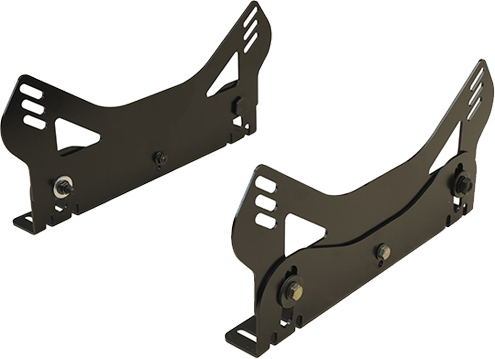 The Recaro RMS seat provides a super-low seating position and meets the professional driver's need for a full-range reclining seat by adopting a high mounting position and design. It is an innovative and specialized sports seat specially tuned for motor sports applications. However, drivers of BMWs and some other vehicles find the position too low, so we responded to requests from drivers for a slightly higher seating position. These products are the result.
By changing the original-equipment side adapter to a side stay, we raised the seat position.*1 And by adopting the two-piece structure, the seat height and seat angle can be freely adjusted for improved forward view, dashboard visibility, pedal access and ease of steering. Adjustments can be made to seat accessibility and the like to suit the individual driver.
The use of UNF7/16 nuts behind the stay allows the seat belt buckle to be relocated and anchor (eye) bolts to be installed on either the left or right side of the seat. These products can be mounted to N SPORT seat rails and genuine Recaro base frames.*2
*1 The front is 26 mm higher and the rear is 68 mm higher than the original-equipment side adapter.
These are the values achieved when using the bolt holes at the top of the side stays for both the original-equipment side adapters and these products.
*2 When mounted to the actual Recaro base frame, the L-shaped stays and sliders must be attached with four bolts.
In order to make six holes, it is necessary to enlarge the 6-mm bolt holes on the sliders to 8-mm bolt holes, at one position each on the left and right.
Black, baked finish

Mounted size:
A: 345 from front to rear of side stay × 380 mm left to right*1
B: 15 mm
C: ±6° of seat angle adjustment
D: 333 mm
E: 296 mm
F: 261 mm

Kit contents:
Seat-mounting flat stay × 2 pcs
Slider-mounting L-type stay × 2 pcs
M8 cap bolt × 8 pcs
M8 flat washer × 8 pcs
M8 flange nut × 10 pcs
M8 flat head bolt × 6 pcs
M8 flat washer × 6 pcs
25-mm dia. flat washer × 6 pcs
spacer × 4 pcs
3.2-mm spacer × 4 pcs
UNF nut × 2 pcs
*1 The numbers on the left and right are the mounting widths for the RMS seat. The elongated holes in the L-shaped stays (the bolt holes for attachment to the sliders) are used for lateral adjustment.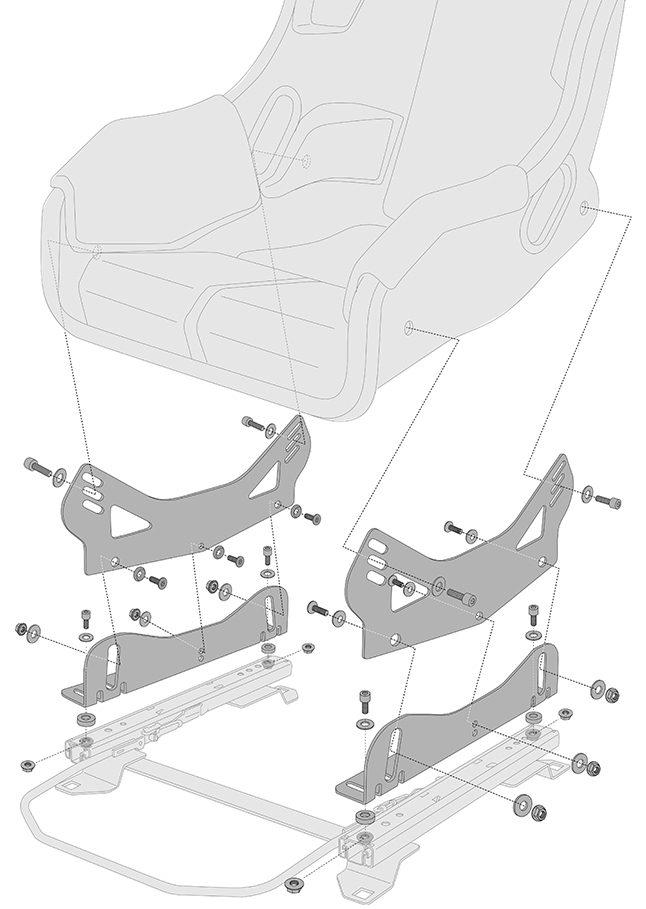 Compatible Auto Makers and Compatible Seats​

We suggest confirming the mounted size before purchase.